9 Super foods in India to cure your post Diwali bloating
Superfoods in India – Did you also eat a bit too much of those oily fried samosas and kachoris at your friends Diwali party, or munched down on sweets like there is no tomorrow. I completely understand because I did the same, Don't worry, it's not only you, we all are suffering with bloating after a full week of heavy eating and ditching those diet plans . But what if I tell you we can get back on our healthy lifestyle by just eating these "superfoods" which are easily available in grocery stores , are not very expensive and would not burn a hole in your pockets.
The term "superfood" is a fairly new term referring to foods that offer maximum nutritional benefits for minimal calories. They are packed with vitamins, minerals, and antioxidants. These provide you with an abundance of energy and nutrients, even if consumed in small quantities.
Myths about the term "superfood" – Nutritionally and scientifically speaking, there is no such thing as a superfood. The term was coined by social media influencers for marketing purposes to influence food trends and sell overpriced products.
The food industry has forced the "superfood" label on nutrient-rich foods with an apparent capacity to positively affect health and provide you with all required nutrients
Though many foods could be described as being a super food, it's important to understand that there is no single food that holds the key to good health or disease prevention. But since the term "superfood" doesn't seem to be going anywhere anytime soon, it may be worth taking a closer look at some healthy options.
Here are 9 foods that may be worthy of the esteemed superfood title.
Spinach (Or any green leafy vegetables)
Green tea
Legumes (Pulses)
Curd (or Yogurt)
Ginger
Turmeric
Lemon
Nuts and seeds
Eggs
We will discuss each one of them in detail, so keep reading along with us.
Top 9 Superfoods in India
1. Spinach (or any other leafy vegetables)
Spinach is a great leafy vegetable to add to your diet. This leafy green vegetable grows all year round and is packed with vitamins and minerals. It's rich in several minerals that your body needs, including potassium and iron. Consuming foods that are high in potassium helps lower your blood pressure. This is the best superfood for you if you suffer from hypertension and cholesterol issues. You can easily blend it into a smoothie or make a chana-palak daal which will provide you with all the nutrients for the healthiest meal. (I will be sharing the recipe for my mom's chana-palak daal soon on the website)
Green tea is said to be one of the healthiest beverages on the planet. Originating from China, but popularized from Japanese tea culture, it's loaded with antioxidants that have many health benefits and would help in reducing bloating. Do you know, if you look at the list of ingredients for any fat-burning supplement, most likely, green tea will be on there? This is because, according to research, green tea can increase fat burning and boost metabolic rate. So if you wish to shed off those extra kilos you might have gained during the festival period, this is the best superfood for you.
Pulses (beans, peas, and lentils) provide protein and fibres, as well as provide a significant source of vitamins and minerals, such as iron, zinc, potassium, and magnesium. Do you know, consuming half a cup of beans or peas per day can enhance diet quality by increasing intakes of these nutrients? Also, Pulse consumption also improves serum lipid profiles and positively affects several other cardiovascular disease risk factors, such as blood pressure, platelet activity, and inflammation. Pulses are high in fibres and have a low glycaemic index, making them particularly beneficial to people with diabetes by assisting in maintaining healthy blood glucose and insulin levels. So if you or a loved one suffers from any of these health issues, you should increase your intake of pulses and you will see the difference in their health yourself.
Curd also Known as yogurt or Dahi, is one of the staples in all our kitchen pantries. And it is for good reason, it is always convenient to be paired with any of our daily meals, either standalone with some roasted jeera or as raita, the uses of curd extend beyond just cooking recipes (also it is my personal favourite on this list). It is rich in calcium, vitamin B-2, vitamin B-12, potassium, and magnesium, and has amazing health and beauty benefits that can be enjoyed by incorporating just one bowl every day in our diet. Curd acts as a great probiotic. The good bacteria present in curd help to clear out the digestive system. It improves our gut activity and is great for treating an upset stomach, and prevents the accumulation of cortisol in our body, which eventually leads to obesity and hypertension. Having curd on an everyday basis can help shed a few kilos.
Ginger has anti-inflammatory, antibacterial, and antiviral properties. Enzymes in ginger can help break up and expel the gasses that form in the intestinal tract during digestion, providing relief from any discomfort. Ginger can also ginger can help alleviate morning sickness and relieve nausea. So if you feel like you have overeaten or feel nauseated, you must try ginger for relief. Many people use ginger to help recover from a cold or the flu. My mom still makes me some ginger tea, if I feel nauseated or have a cold, It is the best remedy for cold and flu. You can also just take a few teaspoons of ginger juice mixed with honey for instant relief from sore throat.
A relative of ginger family, this vivid yellow-orange spice is common in Indian, Southeast Asian, and Middle Eastern cooking. It's also been used as medicine in places like India for centuries to treat issues such as breathing problems. Because turmeric can help fight inflammation and keep blood sugar levels steady, it could be a useful tool to prevent or treat type 2 diabetes. The next time you're under the weather, you may want to sip some turmeric tea. Turmeric can help you to fight off a variety of viruses, including cold and the flu and could help improve IBS symptoms such as abdominal pain.
Lemon juice is rich with vitamins that stimulate immunity and reduce the risk of diseases. The soluble dietary fibres in lemon helps in healthy digestion. Along with boosting immunity, this burst of Vitamin C can reduce your risk of stroke and heart disease with regular consumption. The pectin fibres found in lemons expands once it is ingested, making you feel full sooner and longer. Lemon water is often known as an effective tool in weight loss and weight management. While lemon doesn't contain extremely high iron levels, it can help your body absorb more iron from plant-based foods in your diet. Maintaining proper iron levels helps prevent anaemia.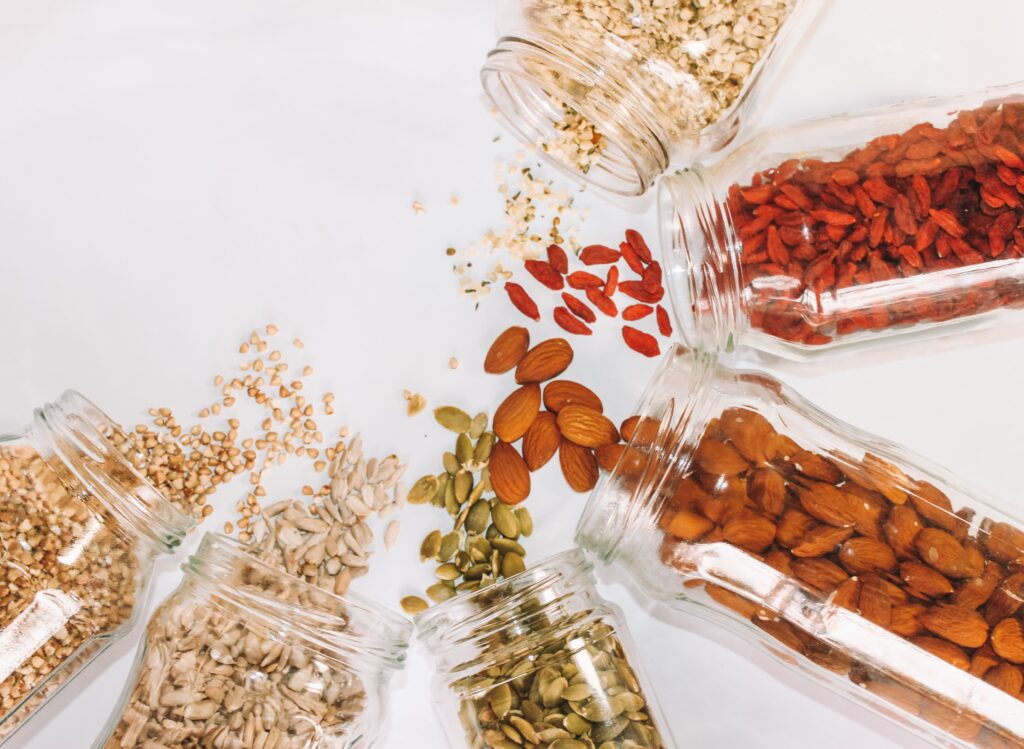 Most nuts and seeds are rich in protein, healthy fats, and fibre , minerals (such as magnesium, potassium, calcium, plant iron and zinc), vitamins B1, B2, B3 and vitamin E. Oily seeds also contain antioxidants that stop the fats from going rancid too quickly. When included as part of a weight-loss diet, nuts have been shown to enhance weight loss and fat loss in the abdominal region and lower risk for chronic diseases (such as heart disease and diabetes). Due to the unique nutrient profiles of nuts and seeds, they are known to provide several health benefits, such as:
helping to maintain your weight
reducing your heart disease risk
reducing your diabetes risk.
Do you know one egg has 6 grams of protein, with all nine "essential" amino acids, which are the building blocks of protein? That's important because those are the ones your body can't make by itself. Also they are good for people who suffer with cholesterol and hypertension issues. They also contain vitamin D which improves brain activity as well. The egg white holds about half that protein and only a small portion of the fat and cholesterol. Also an egg has –
High-quality protein
Selenium
Phosphorus
Choline
Vitamin B12
Multiple antioxidants, which help keep your cells healthy 
Achieving optimal health through food and nutrition is about more than focusing on one or two of the latest food trends. Trends change with time, but we need to primarily focus on a balanced diet and keep our health at our priority. Good health is best supported by eating a variety of nutritious foods every day. Including some, or all, of the foods on this list as part of a balanced diet can benefit your overall health and may prevent certain chronic diseases. Do remember that most of these super foods are easily available in nearby markets and are not really expensive so you can try them out, plus there are many more healthy super foods which available in market and would be a great match for these ingredients.
This concludes my list of super foods, do let me know in the comments if you tried some of these superfood items ,  and how it turned out , also do let me know if you wish to get some recipes of the given superfoods , or if you have any suggestions, I really hope you would check out my social media pages here for more such content and read my blogs here , Thank you for reading so far, please provide me any feedback you wish to , I would really appreciate it.