Delicious Tofu Katsu Curry Recipe
Japanese katsu curry is a delicious and popular dish that has become increasingly popular in recent years. It is a combination of two classic Japanese dishes – fried pork cutlet (katsu) and a rich, flavorful curry sauce. The dish is usually served with steamed rice, which helps to balance out the flavors of the curry and the crunchy texture of the fried pork cutlet. It's a great way to enjoy both Japanese cuisine and international flavors at once! If you are craving this delicious Japanese Katsu Curry dish, forget about ordering it from take-out and prepare your own Katsu Curry with Tofu at home! Enjoy the crispy golden-brown tofu that is soaked in aromatic and delicious Japanese-style curry sauce. An easy to replicate and simple dish that gets ready in merely 30 minutes!
History of Japanese Katsu Curry Don
Katsu Curry Don recipe was introduced to Japan by the British Colonial Rule in the Meiji era and is considered to be a Western cuisine dish. This Western-flavoured curry is different from the Indian-flavoured curry, which is also very popular in Japan (the presence of Indian restaurants in Japan saw a big leap in the 1990s).
Western-flavoured curry sauce is made by frying together curry powder (or paste), flour and oil to make a roux. The roux is then added to an already ready pot of stewed meat and vegetables and simmered until thickened to desired consistency. In Japanese homes, curry sauce is usually made from instant curry roux which is readily available in markets, in either block or powder form. This pre-made instant curry roux contains curry powder, oils, flour and a variety of flavourings to make the perfect katsu curry don recipe.
The original Katsu Curry is made with either Chicken or pork, and this recipe is a vegetarian take on the classic Japanese Katsu Curry, replacing the meat with tofu. You can also use cottage cheese (paneer) however you should make sure to remove all the moisture from it before breading and frying it.  I personally love serving the tofu katsu curry in a bed of steaming white rice with the thick and velvety, spicy curry sauce poured on top! It's a soul-filling and delicious meal that is perfect for any meal, be it lunch or dinner.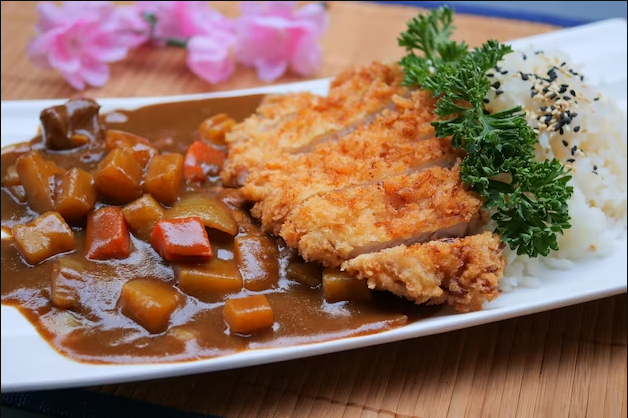 An authentic Japanese meal consists of a main dish (like the curry), a couple of side dishes, and a soup and rice bowl. I always try to mix and match a lot of different combination of dishes with a variety of flavours, colours, textures and easy-to-make dishes. Fukujinzuke is the ingredient to go with Japanese curry. I highly recommend serving a quick green salad to go with the rich flavour of the curry. Fresh or steamed salad with Vinaigrette Dressing would be perfect for it. If you wish for a recipe for it, do let me know down in the comments.
The correct Japanese term for this dish is Katsukarē. Katsu signifies "cutlets" while karē signifies a Japanese version of curry. It is basically a dish that traditionally includes a meat cutlet (called tonkatsu or donkatsu) served with rice and Japanese curry. It is one of the most popular dishes in Japan, way up there with Ramen and Sushi! But it is also a very simple and quick recipe.
Breaded Tofu
500 g extra firm tofu (if you cannot find tofu, use paneer instead)
3 tablespoons all-purpose flour
100 ml milk , unsweetened
50 g panko bread crumbs
1 teaspoon garlic paste(or 1 teaspoon garlic powder)
2 tablespoons nutritional yeast (*optional, avoid it if inaccessible)
1/2 teaspoon salt , or more as per your taste
½ teaspoon Fresh ground pepper , or as per your taste
Oil for frying tofu cutlets (about 2-3 tablespoons)
Curry Sauce
3-4 tablespoons olive oil or any other preferred cooking oil
1 medium onion , diced
1 medium carrot , diced
1 medium potato , diced
1 tablespoon freshly grated ginger (or ginger paste)
3 cloves garlic , minced or crushed (or garlic paste)
5 tablespoons curry powder (see bottom note for buying links)
1/2 teaspoon turmeric powder
2 tablespoons all-purpose flour
300 ml vegetable broth , low sodium
120 ml coconut milk , full-fat (canned)
1 tablespoon light soy sauce (use ½ tablespoon dark soy sauce if you cannot find light one)
1 teaspoon maple syrup (or some other preferred sweetener like honey or jaggery)
1/2 teaspoon salt, or more as per your taste.
Jasmine Rice-
1 Cup Jasmine Rice
½ teaspoon salt (or as per your taste)
To serve (optional)-
White Rice (preferably jasmine rice or Basmati rice about 3 cups cooked)
Chives or Green onion , sliced
Cilantro , chopped
Quick Vegetable salad
Curry Sauce
Heat 2 tablespoons of oil in a large frying pan over medium heat. Once the oil is hot enough, add onion and sauté until translucent. About 2-3 minutes.
Now add the garlic and ginger. Sauté for 30-60 seconds until fragrant.
Add curry powder and turmeric powder. Sauté for 30 seconds until fragrant. Add the flour and combine. Cook for a few minutes to remove the raw taste of flour.
Pour in the vegetable broth and whisk to combine well and eliminate lumps. Reduce the heat and add the coconut milk, soy sauce, maple syrup, and salt. Cook for a few minutes until the curry gets a little thick. If it's too thick, thin it out with a ladle full of vegetable broth. Taste and adjust flavour if needed.
Transfer to a blender and blend until the paste is creamy and smooth. Now put it back in the pan and add the diced vegetables and roast for a minute.
Set aside, but leave the top on to keep warm. Alternatively, you can transfer the curry to a small pot, cover with a lid and place on gas over low heat to simmer down. Clean this same pan to reuse for frying of tofu katsu.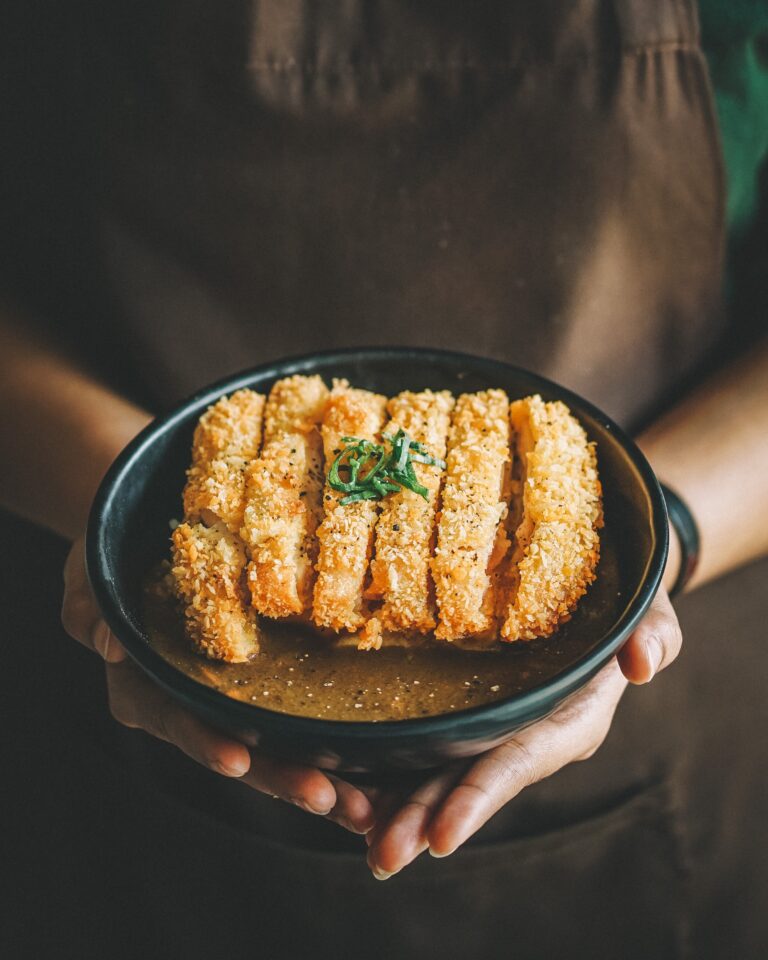 Tofu Katsu Cutlets-
Cut the dried tofu into 4-5 even slices, then prepare a breading area with three bowls big enough to fit the tofu. In the first bowl, add the flour. Then the second bowl, add the milk. In the final bowl, combine the panko bread crumbs with garlic powder, nutritional yeast, salt, and pepper.
Dip the slice of tofu in all-purpose flour and coat with it on all sides. Now dunk the tofu in the milk, and finally dip into the bread crumbs to coat all sides. Shake well and Press the slice gently to ensure its coated well.
Now heat a frying pan on medium heat for a few minutes. When fully heated, add the cooking oil and wait until it heats up fully. Now add the marinated tofu to the pan and fry for few minutes on each side until golden brown. Flip gently with a flat spatula or fork. Give it time to become fully crispy and golden brown before flipping or it will break apart.
Transfer the fried tofu to a paper towel-lined plate to absorb any excess oil.
Jasmine Rice-
In a medium sized saucepan with a tight-fitting lid, combine 1 cup jasmine rice, 1+1/4th cups water, and ½ teaspoon salt, and bring to a boil.
Stir once only, put on the lid, and reduce heat to low and let it simmer for 19-20 minutes. (Do not lift the lid or stir or it will break the rice grains)
Turn off the heat and let the saucepan stand, covered, for 5 minutes, after which you can fluff the rice with a fork and serve with your Katsu curry don recipe.
Jasmine rice is a delicious, mildly perfumed rice used across South East Asia. It's strongly associated with Thai and Japanese Cuisine, and is used for serving with everything from Thai marinated chicken to Katsu Curry, Satay Skewers, Mango sticky rice and the many Thai and Japanese curries out there. Here I have shared the simple boiled rice recipe, you can create fried rice to serve along with Katsu curry as well.
Slice the tofu in long strips or diagonally and place it on a bed of rice. Pour the curry sauce on the side. Garnish with chives and cilantro leaves. Your Katsu Curry Don Recipe is ready. Serve it with salad greens. (see image below for serving idea )
How to store Katsu Curry?
Japanese Curry can be easily stored for 3-4 days in the fridge and 1 month in freezer. But if you are freezing the curry, I recommend avoiding adding potatoes to the curry. Defrosted potatoes become spongy, and the texture is really bad.
When reheating the chilled curry, you should add some water and salt to the curry because the roux thickens when cooled down, it will not affect the taste in any way
There are two ways to reheat frozen curry – heat in the microwave and heat in a hot water bath.
When reheating the curry in your microwave, keep stirring from time to time to make sure it heats fully. The outer part of the curry gets heated and even starts bubbling but often the centre is still frozen. You need to mix the hot and cold to speed up the process of defrosting and heating.
In the hot water bath method, you don't need to worry about occasional mixing. Put the block of frozen curry in a zip lock bag and place it in a sieve that can go inside a pot of boiling water. The sieve prevents the plastic from touching the side of the pot, which is extremely hot.
Tips and tricks that might help you -
Nutritional Facts and information about tofu katsu curry
Consuming tofu as a replacement of animal protein can help lower levels of LDL cholesterol. This, in turn, decreases the risk of atherosclerosis and high blood pressure.
Soy products, which includes tofu, is a very good source of plant protein, providing all nine of the essential amino acids we need for growth, repair and functions like immunity.
Coconut milk contains high levels of saturated fat, making it a calorie-rich food. So you should avoid it when trying to lose weight.

White jasmine rice is , like all white rice, highly processed, which results in the loss of fiber and many nutrients from the same. But, whole-grain varieties of jasmine rice, which range in color from brown to red to black, may be a healthier option than white rice.

 
I do hope you try this recipe and enjoy it as well, If you liked this recipe or have any suggestions or tips and tricks do let me know, I would love to hear from you, also to check out my other recipes, you can see them here, I will try to update more often so in the meanwhile do check out my other blogs here , and please stay connected with me on my social media pages here. Bye!!